Cyber Defense Analyst
Uses data collected from a variety of cyber defense tools (e.g., IDS alerts, firewalls, network traffic logs) to analyze events that occur within their environments for the purposes of mitigating threats.

MBT - Certified Blue Teamer
Malware analysis, threat hunting, threat intelligence, digital forensics, incident response, and cyber defence are all tasks that an MCSI qualified professional Blue Teamer can perform for the SOC.
This certification course will teach you how to deploy and manage incident mitigation techniques and technologies, as well as how to detect and contain intrusions, analyse suspicious binaries, and discover hidden cyber enemies.
Read More
TARGET AUDIENCE
Security Analyst
Incident Responder
Threat Hunter
Cyber Defender

MRE - Certified Reverse Engineer
A Malware Analyst with the MRE certification can do static, dynamic, and behavioural analysis on sophisticated and current malware (ransomware, remote access trojans and APT toolkits).
Malware deobfuscation, code decompilation, memory forensics, defeating anti-debugging techniques, automation and scripting, and using a systematic approach to reverse engineering dangerous code are all covered in this certification training.
Read More
TARGET AUDIENCE
Malware Analyst
Cyber Defender
Incident Responder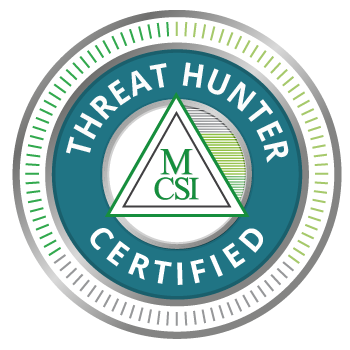 MTH - Certified Threat Hunter
Threat hunting engagements in large-scale Windows networks can be delivered by an MCSI certified professional Threat Hunter.
This certification course will teach you how to acquire digital forensics artefacts at scale and how to seek for hidden cyber adversaries using Python and YARA.
You'll learn how to use a methodical approach to Threat Hunting, including how to deliver engagements and reports.
Read More
TARGET AUDIENCE
Security Analyst
Incident Responder
Threat Hunter
Cyber Defender