Everything you need to learn the fundamental cyber security concepts in a single purchase
MCSI's `Cyber Security Concepts Specialist Bundle` teaches the fundamental I.T. Security concepts. Exercises included in the bundle are research-based. There is no technical skills or pre-requisite knowledge needed to solve these exercises. Several different domains of Information Security get covered in the content. These domains are:
Information System Auditing
Governance and Management of IT
Information systems Acquisition, Development and Implementation
Information Systems Operations, Maintenance and Service Management
Protection of Information Assets
Information Security Governance
Information Security Risk Management
Information Security Program Development and Management
Information Security Incident Management
IT Risk Identification
IT Risk Assessment
Risk and Response Mitigation
Risk and Control Monitoring and Reporting
The `Cyber Security Concepts Specialist Bundle` includes 300+ exercises. There is no time limit for this training. It is completely self-paced and there are no pre-requisites required.
Fees
US$199 (+ GST if you're based in Australia).
Practical exercises must be completed online using MCSI's Online Learning Platform.
Terms and Conditions
No discounts
No refunds
No transfers
No renewal fees
No hidden fees
No time limits
Cooling-Off Policy
Receive a full refund if you change your mind about a purchase within 24 hours. No questions asked.
How to enrol
Login/Register for MCSI's Online Learning Platform
Select `Shop` from the left-side menu
Find the Cyber Security Concepts Specialist Bundle, select `Buy` and proceed through the checkout process. You can purchase using a Credit Card or PayPal
Once you have enrolled in the Cyber Security Concepts Specialist Bundle, the curriculum unlocks immediately
In the left-side menu of the platform, select `Training & Education` then `MCSI Bundles`, and you will see the Cyber Security Concepts Specialist Bundle listed
Sample Exercises
Below are three (3) exercises from the 30 exercises available in Cyber Security Concepts Specialist Bundle:
Research the Cyber Kill Chain Model and the MTIRE Matrix (Concepts)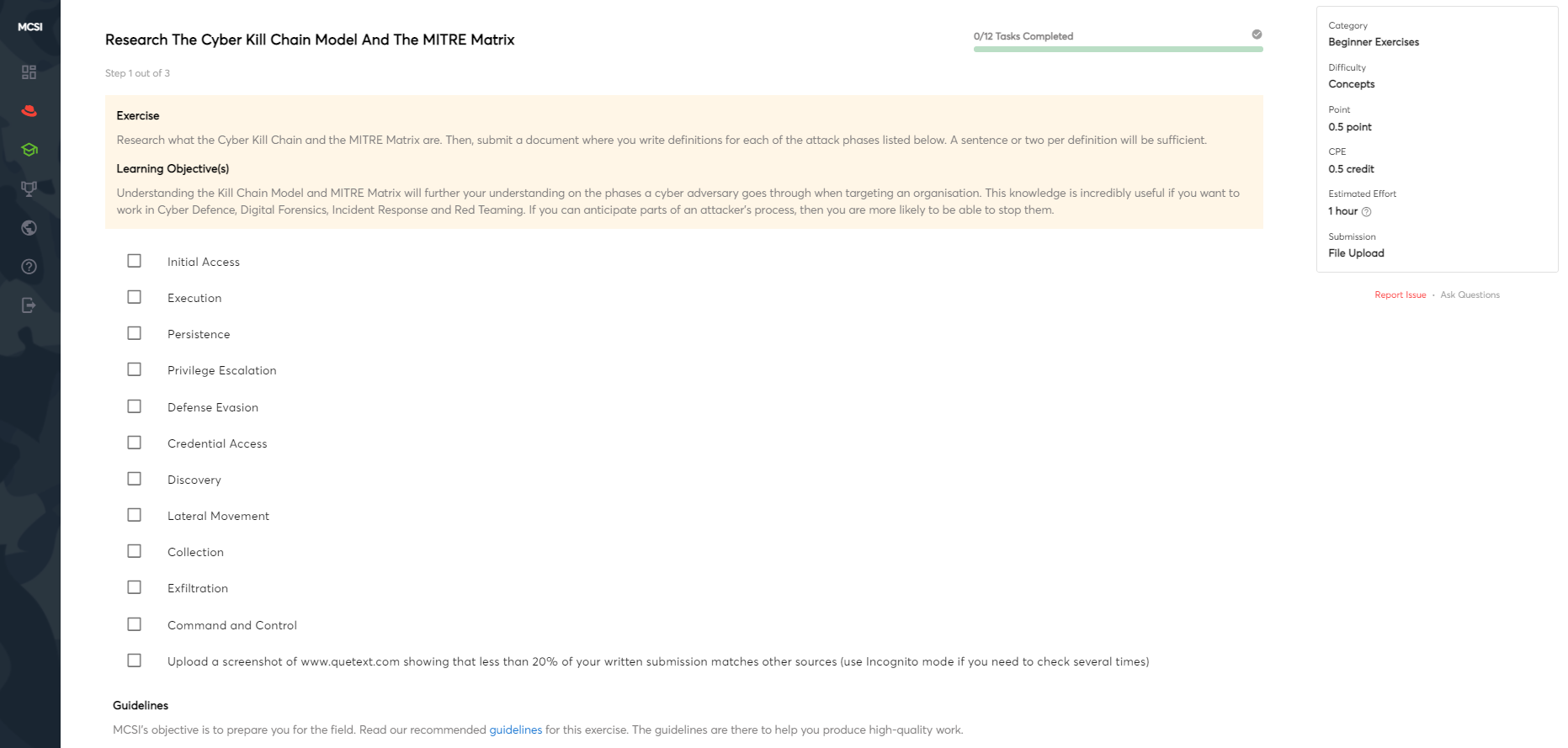 Research what identify access management is and its benefits (Concepts)


Research and provide a methodology to perform a vulnerability assessment (Concepts)