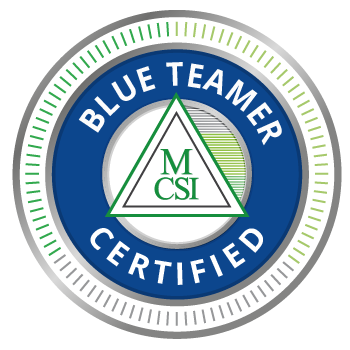 MBT - Certified Blue Teamer
Blue Teamers bridge the divide between the cyber security and IT operations teams. They are often the first responders to an incident, working to contain and mitigate the damage. They also work proactively to identify and mitigate threats before they cause damage.
To be a successful Blue Teamer, you need to be able to think on your feet and be able to work with people from different backgrounds. You also need to have a strong technical background and be able to quickly understand complex systems.
The MCSI Blue Teamer Certification is a globally recognized standard of excellence in Cyber Defence. Earning this certification proves that you have the competencies required to succeed in the cybersecurity industry.
Students who have successfully completed the MBT Certification Course can apply for Blue Teamer jobs with the confidence that they have the skills and knowledge needed to be successful in this field.
If you are looking for a career in cybersecurity, the MCSI Blue Teamer Certification is the perfect starting point. With this certification, you will be equipped with the skills and knowledge needed to defend an organization's networks and systems from cyberattacks.
Register Now
Course Overview
Intermediate
Certification
600+ hours
186
$450
No Expiry, No Renewals