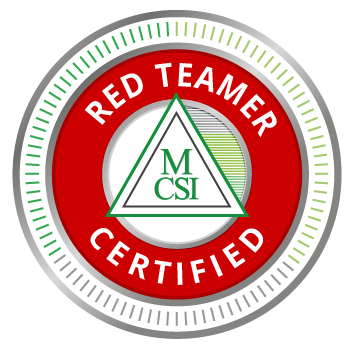 MRT - Certified Red Teamer
Red team operations are becoming increasingly important in the modern enterprise. As security solutions become more advanced, attackers are forced to change their tactics and strategies. To stay ahead of the curve, organizations are turning to red team operations to identify and exploit weaknesses in their security posture.
An MCSI-qualified professional red teamer is capable of delivering the full gamut of red team operations. This course focuses heavily on custom malware development to bypass and evade enterprise security solutions.
Malware code is one of the most important aspects of offensive security. By learning how to read, understand and write malware code, you will develop a strong technical foundation in offensive security.
The MRT Certification is the only certification in the world that focuses exclusively on cyber red team operations. It is designed for professionals who want to develop deep knowledge and expertise in offensive security. The certification is also a great way to stand out from the competition and demonstrate your commitment to cybersecurity.
Register Now
Course Overview
Advanced
Certification
600+ hours
284
$450
No Expiry, No Renewals