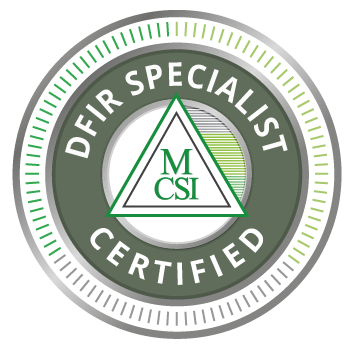 MDFIR - Certified DFIR Specialist
There are a few key skills required for cyber incident response and digital forensics. The first is a strong understanding of computer systems and networks. This includes an understanding of how systems work and how to troubleshoot issues. Incident responders also need to be able to quickly understand the data that is being analyzed, as well as any potential threats.
The second key skill is the ability to communicate effectively. Incident responders need to be able to effectively communicate with other members of their team as well as with clients or customers. They also need to be able to communicate clearly and concisely in writing.
The final key skill is the ability to stay organized. Incident responders often have to manage a large number of tasks simultaneously and need to be able to keep track of all of the data. They also need to be able to stay organized when working under pressure.
If you want to learn how to respond to computer incidents and conduct digital forensics investigations, the MCSI MDFIR course is the golden standard. Offered by the global leader in information security training, this course provides in-depth instruction on how to protect your organization from cyber attacks and respond to incidents when they occur.
MDFIR Professionals have the skills and abilities to excel in the digital forensics and incident response field. Earning MDFIR Certification from MCSI is your assurance that you have the competencies the industry is seeking. Our certification program has been developed with input from leading experts in the field, so you can be confident you are getting the most up-to-date and relevant training available. When it comes to finding a job in digital forensics and incident response, MDFIR Certification from MCSI can make all the difference.
Register Now
Course Overview
Intermediate
Certification
600+ hours
206.5
$450
No Expiry, No Renewals