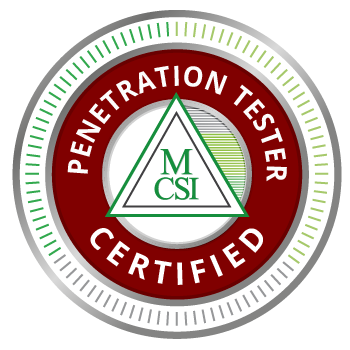 MPT - Certified Penetration Tester
Penetration testing, also known as pen testing, is the process of attempting to breach the security of a computer system or network. Pen testers use a variety of methods to attempt to penetrate a system, including but not limited to, trying to guess passwords, exploiting vulnerabilities, and using social engineering techniques.
It takes a special kind of person to be a penetration tester - someone with the skills to find security vulnerabilities and exploit them. To be successful in this career, you need to be good at hacking, reverse engineering, and cryptography. You must also be able to think like a hacker, reasoning your way through complex problems and identifying potential exploits.
An MCSI qualified professional penetration tester can provide comprehensive web application and infrastructure penetration tests. By identifying and exploiting vulnerabilities, a pen tester can help organizations identify and fix security weaknesses before they can be exploited by malicious actors.
The MPT Certification from MCSI signifies that you have the competencies that the industry is seeking, making you a valuable asset for Penetration Testing jobs worldwide.
Register Now
Course Overview
Intermediate
Certification
600+ hours
261
$450
No Expiry, No Renewals