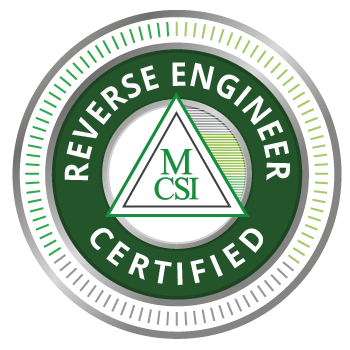 MRE - Certified Reverse Engineer
Reverse engineering is the process of extracting the knowledge or design of a system from its implementation. In software engineering, reverse engineering is the process of discovering the underlying algorithms and structures of a program, usually by analyzing its executable code. In cyber security, this is done to analyze malware and find vulnerabilities in software in order to protect networks from attacks (or sell zero-days).
There are a number of skills required in software reverse engineering. The first is a deep understanding of how software works – what each instruction does, what data structures are used, and how the program flows. The second is a strong technical skillset, including the ability to disassemble code, debug it, and understand assembly language. Finally, reverse engineers must have a good understanding of malicious code and common attack vectors.
A professional Reverse Engineer with MCSI qualifications is experienced in conducting static, dynamic, and behavioral analysis against sophisticated and modern malware.
MCSI's MRE Certification is globally respected and has helped many students land jobs as Malware Analysts. The certification proves that you have the competencies the industry is seeking, which will give you the confidence to apply for jobs worldwide.
Register Now
Course Overview
Intermediate
Certification
600+ hours
227
$450
No Expiry, No Renewals