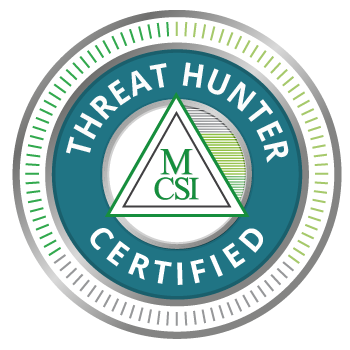 MTH - Certified Threat Hunter
A highly skilled and qualified MCSI certified Threat Hunter is able to execute threat hunting engagements in large-scale Windows networks. By identifying and targeting threats early, organizations can improve their overall security posture and prevent costly breaches.
Threat hunting is the proactive identification and mitigation of threats in a network before they cause damage. It is a critical process for improving the security posture of an organization and preventing costly data breaches. To be effective, a threat hunter must have a deep understanding of the network environment and the tools and techniques necessary to detect malicious activity.
The MTH Certification is designed to help security professionals master the art and science of threat hunting. It is a globally-recognized credential that demonstrates that you have the competencies that the industry is seeking. Earning your MTH certification can open up opportunities for you to pursue a career in Cyber Threat Hunting.
Register Now
Course Overview
Intermediate
Certification
600+ hours
208
$450
No Expiry, No Renewals