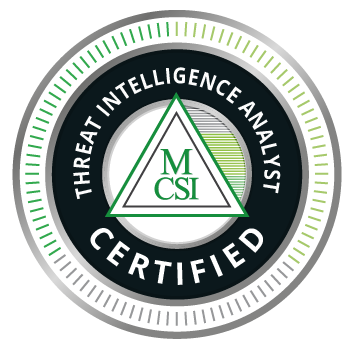 MTIA - Certified Threat Intelligence Analyst
Cyber threat intelligence (CTI) is the process of identifying, detecting, analyzing, and responding to information security threats. CTI can help organizations protect themselves from cyberattacks by providing them with information about the latest threats and vulnerabilities.
Advanced cybersecurity teams prefer producing their own cyber threat intelligence rather than solely relying on industry products. It can be difficult to find a product that meets all their needs. It must integrate with their existing tools and processes, and provides the right level of detail and context.
This course is designed to help these advanced teams learn how to produce their own threat intelligence. In it, we teach sophisticated techniques that they can use to identify, investigate, and respond to APTs. By giving these teams the ability to produce their own threat intelligence, they will be able to better protect their organization from harm.
A Threat Intelligence Analyst who is MCSI qualified can conduct situational awareness assessments, gather intelligence, produce intelligence, and take offensive countermeasures. This individual is also capable of conducting hacking back operations.
This certification training is particularly designed for senior cyber operators who need to develop Defend Forward capabilities.
Register Now
Course Overview
Advanced
Certification
600+ hours
259
$450
No Expiry, No Renewals